Surgical Procedures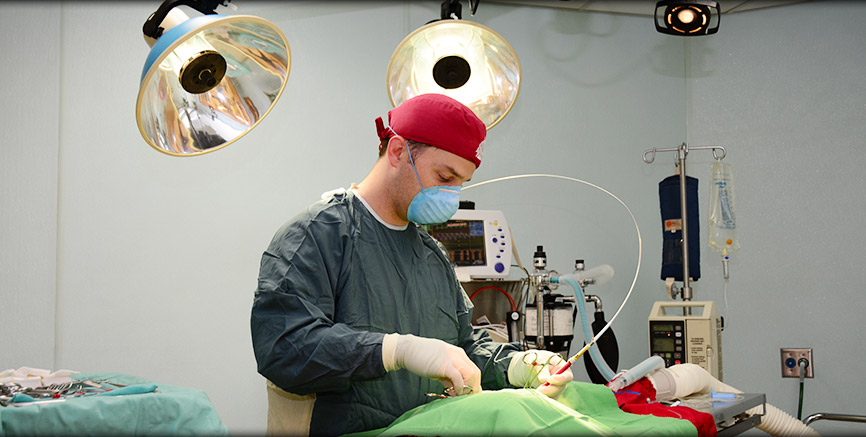 Advanced Surgical Care
When your pet needs surgery, our experienced team of veterinarians and technicians will take the best care of your pet before, during and after surgery. We practice the highest surgical standards in the veterinary industry to make surgery and anesthesia safe for your pet. Our surgical procedures include:
Pre-and post-surgical consultation and evaluation with you.
Pre-surgical physical exam and bloodwork to be sure your pet is healthy to receive anesthesia.
Custom anesthesia and pain management plan.
State-of-the-art surgical suite.
State-of-the-art surgical monitors closely watched by a dedicated technician during surgery to monitor your pet's vital signs, such as heart rate, blood pressure, oxygen saturation and temperature.
Placement of an IV catheter prior to surgery allowing us to administer warm IV fluids to help maintain your pets hydration and ideal blood pressure throughout surgery. The IV also allows us immediate access in the event of an unlikely emergency situation.
Individually monitored recovery.
The types of surgical procedures we perform are:
General soft tissue surgery including:

Spay and neuter surgery
Growth removal
Tumor biopsy
Laceration repair
Abdominal exploratory surgery
Urinary bladder surgery and stone removal
Cesarean section
Emergency surgery, such as foreign object removal, wound repair

Orthopedic surgery
Dental surgery and advanced dental surgery
After Surgery
We will be sure that we have the best contact information when you drop off your dog or cat and will keep you fully informed about your pet's surgery, progress and recovery. If required, the comprehensive pain management plan may include at-home pain medication to keep them as comfortable as possible at home. Upon discharge, we will explain all instructions to you.