Comprehensive State-of-the-Art Dental Care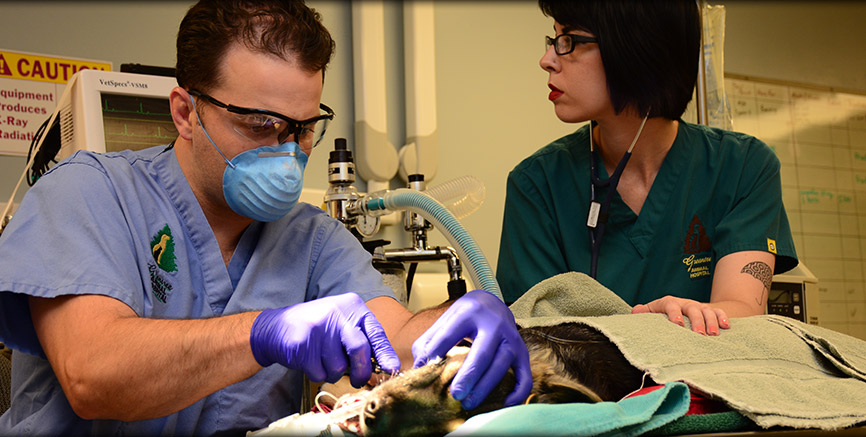 Your pet needs dental care, just as you do! Good oral hygiene is a large part your dog or cat's overall good health. Over 80% of dogs and cats have dental disease by time they are 3 years old. Oral infections and diseases not only affect your pet's teeth and gums, but also affect their overall health. With a combination of annual dental exams, our professional dental cleanings and at-home dental care, you can fight plaque and tartar build-up on your pet's teeth to prevent gingivitis and the potential of periodontal disease.
At Greentree Animal Hospital, our professional dental care for dogs and cats includes:
A full examination of your pet's mouth, gums and teeth
Dental x-rays, allowing us to visualize your pet's teeth and bone structure
A complete dental exam with charting of pathology
Hand scaling and ultrasonic scaling
Polishing
During your pet's dental exam, we may identify areas in your pet's mouth that require additional treatment, including tooth removal. We will call you if we discover any advanced dental disease that need to be treated. We offer all types of advanced dental care, including:
At-Home Dental Care
At-home dental care is an important part of keeping your pet's teeth and gums healthy. In addition to our professional cleanings, we recommend establishing a regular dental care routine at home. Brushing your dog or cat's teeth at home can be the most effective means of preventing a variety of dental infections and diseases. During your pet's next exam, our staff can help you learn how to effectively care for and brush your dog or cat's teeth at home.
Signs of Dental Disease in Your Pet
A good start to good dental care for your pet is for pet owners to recognize the signs of oral and dental disease in your pet. It's important to watch for symptoms that may indicate an underlying infection or condition such as:
Bad breath
Bleeding from the mouth
Drooling or dropping food from the mouth
Loose teeth or teeth that are discolored or covered in tartar
Loss of appetite or loss of weight
Call us today to schedule a dental exam!