Board Your Dog and Cat With Us!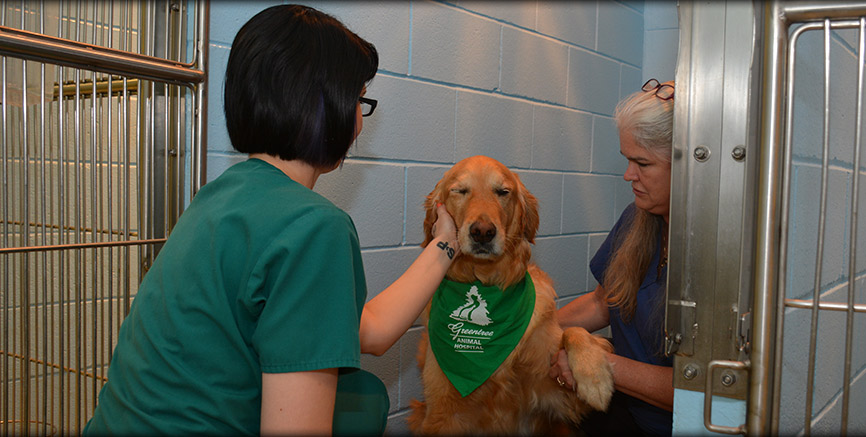 Board your dog and cat with Greentree Animal Hospital and have peace of mind that your pet will be treated with loving care by our expert boarding staff and will be happy and healthy while you are away. You may drop-off and pick your pet at any time during our normal business hours.
Pets sleep great at Greentree Animal Hospital because:
They have a comfortable, clean, environmentally controlled environment.
Each pet receives individual, loving attention.
We administer medications and the proper feeding schedule for your special pet.
Dogs are exercised outdoors at least twice daily or in accordance with their ability.
We encourage you to bring your pets' favorite toys, and regular food.
Cat guests are kept in a separate area away from dogs and the noise and activity of the rest of the animal hospital.
Cats are given fresh water and a sanitary litter box at least once every day.
Pets go home healthy and happy!
You will have the peace of mind that your pet is under the watchful eyes of our veterinarian and specially-trained staff.
Boarding Requirements
Clear fecal within last 6 months and that if fleas ticks are found they will be treated and mention that vaccines can be updated while at Greentree Animal Hospital.
Medically Supervised Boarding
Do you have a pet with special needs? We are here to help! Greentree Animal Hospital is pleased to offer medically-supervised boarding for pets with special needs. Your pet will be comfortable boarding with us for a single night or for extended periods. Our veterinarian and specially-trained staff are here if your pet has any medical needs during his or her stay. Drop-off and pick you are at any time during our normal business hours.
Would Your Pet Benefit from Medically-Supervised Boarding?
If your pet fits any of these conditions, your pet would benefit from medically-supervised boarding while you are away:
Elderly pets with serious medical conditions or chronic conditions that are being managed.
Pets that have recently had major surgery (especially orthopedic surgeries).
Rehabilitation patients.
Pets requiring extra assistance to walk.
Pets requiring wound care.
Boarding for diabetic pets.
medications/treatments can be administered by trained medical personnel such as oral medications, insulin injections, and fluid therapy.
We promise your special pet will be in good hands with us while you are away. Please call us today to schedule your pet's stay with us. Please note that an examination by our veterinarian may be requested for new boarders and that we fill up quickly during holiday hours.